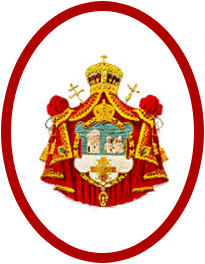 Saints Peter and Paul Serbian Orthodox Church
Kolo Srpskih Sestara prepared lunch on November the 16th of 2008. We had a superior of the monastery Archimandrite Nazarios (located on the North of Georgia) as a guest, and he served the Holy Liturgy together with our Priest. Archimandrite Nazarios brought the miraculous icon of our Blessed Lady. After the Divine Liturgy Kolo Srpskih Sestara served the lunch.

Kolo Srpskih Sestara je pripremilo rucak 16. novembra 2008. Pozvali smo i starjesinu manastira Resaca (koji se nalazi na sjeveru Dzordzije), jeromonaha Nazarija, koji je zajedno sa nasim svestenikom sluzio Svetu Liturgiju. Jeromonah Nazarije je doneo iz manastira u nasu crkvu cudotvornu i mirotocivu ikonu Presvete Bogorodice. Poslije svete Liturgije bio je pripremljen rucak od strane Kolo Srpskih Sestara.